Okay for real this time, this is a true updated/review of P90X Phase I. I am going all the way with P90X this time. I got through Phase 1 and started Phase 2 last week so this is actually my 2nd week of Phase 2 which I will update you on November 4th. I've never made it this far with P90X, so I'm very excited and proud of myself. I loss 13lbs and 3 solid dress sizes during Phase I.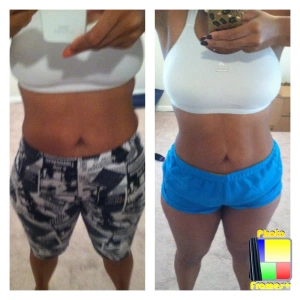 Again, I used the resistance bands to do pull ups, and did all the push ups on my knees. I used 2lb – 10lb dumbbells for most of the exercises that required weights. I still think Core Synergistics is the hardest DVD of them all. Each time you try to do it it gets better though; much like the rest of the DVD's. I modified almost all of the moves and was still super sore from the workouts. I was sore in parts of my stomach and back I didn't even know existed. Sometimes I'd just stand there and stare at them in the video like, "are you kidding me?". But staring long enough made me want to at least try to do the moves. Each week I got better and better.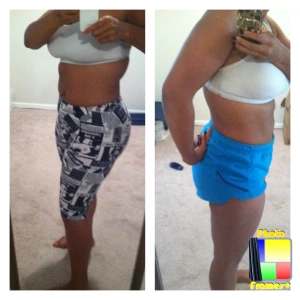 I replaced Yoga X, with a beginners yoga class at my local gym that's more my speed. P90X is more advance yoga in my opinion, unless you do the first 30 minutes which is the warm-up. I also added in some hiking and light jogging in the evenings to increase my after work activity level, since I did my P90X workouts in the mornings. One thing that really urks me about the P90X DVD set is the video editing quality. The camera shows close-ups of all the wrong things. It makes it hard to follow along, especially when Tony is busy yapping and not explaining how to do the moves. You eventually catch on to how to do the moves, but that really gets on my nerves.
I have not purchased Shakeology or any of the supplements, nor do I plan to. I simply just drink A LOT of water throughout the day. I am taking a prenatal pill for overall feminine health as the only supplement during this program. I did follow the diet plan this time by not eating carbohydrates, and sticking to 1,450 calories a day. I believe that made all the difference in the world. I will keep you posted upon Phase 2 completion which will post on November 4th. Remember to check out my Photo Gallery, and Facebook for more updates on my progress.