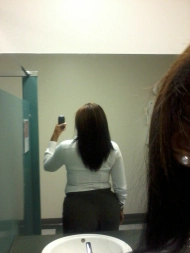 The following are hair growth tips that anyone can use who experiences dry hair. I myself am African American and I am natural. I had all of my permed hair cut down to a boy cut fade in August 2006. My hair is currently past my bra strap in its blown out state. Here are some lessons I have learned along my journey to long hair growth:
1.       KEEP SCALP CLEAN
Contrary to popular belief, dirt does not make hair grow and that is an unhygienic regimen to practice. Wash your hair whenever you think it's dirty. Make sure you don't have hard water. Hard water deposits minerals onto the hair shaft which can make hair feel dry and rough. Use a moisturizing shampoo free of sulfates if you feel your hair is dry after shampooing and use the recommended follow up conditioner to whichever sulfate free shampoo you decide to use. I recommend Design Essentials.
2.       KEEP HAIR MOISTURIZED
Any essential oil can be used to moisturize your hair. Coconut oil, Safflower oil, Grapeseed oil, Argon oil, Jojoba oil, Olive Oil, Rosemary Oil, Vitamin E oil, Shea oil, etc… Also, drink lots of water. Drinking water really does work to keep your hair moisturized internally. Keeping your hair moisturized will retain length.
3.       KEEP ENDS TRIMMED
Do this as necessary. Some may need to do this more than others. Be careful who you let trim your hair. Don't be afraid to use a hand held mirror and watch them as they trim your ends. I've been doing that to my stylist for 2 years now and I don't feel an ounce of guilt about it. She even expects it!
4.       EXERCISE
Exercise pumps blood to the scalp and good blood circulation stimulates hair growth.
5.       DIET
Hair grows from the inside out. Consume healthy fats, lean proteins, vegetables and legumes, and healthy grains and drink lots of water. I personally believe my diet is the true secret to my hair growth. Keep preservative packed foods out of your pantry and fridge!!! Add a multi-vitamin and Omega 3 supplement to your diet and you will further increase your potential for hair growth.
6.       DO NOT OVER CONDITION HAIR
Over conditioned hair will break and become brittle. Keep your hair regimen simple.
7.       DO NOT OVER HEAT HAIR
When blow-drying your hair try using a cooler setting on the ends. Use heat when necessary. Protect hair with low maintenance hair styling/manipulation. Find a good heat protector and stick with it. FYI: Grapeseed oil works as a natural heat protector.
8.       KEEP HAIR DETANGLED
Proper detangling of the hair will help retain length. I recommend using a Denman Brush found at Sally's.
9.       KNOW WHEN ITS TIME TO SEEK A PROFESSIONAL
I always seek a professional when it comes to hair dyes and straightening. I can do my own blow-outs and twists, but silky straight hair requires the talents of my hair stylist. She can get it straight like none other with minimal effort.
10.   BE PATIENT WITH YOUR UNIQUE HAIR
No one has the same hair as you! My mother and father both created me, yet I do not have hair like them, nor like my brother. My hair is unique. You may look at my hair and think our hair textures look similar, but pictures can be deceiving. That being said, don't compare your hair to anyone else's. Hair grows at its own unique rate. The only thing you can do is retain what hair you have. As long as you are breathing, your hair is growing. So be patient and don't stress about your hair growth. Besides, stress prevents hair from growing.
While creating this list of hair growth tips I had quite a few others so here they are:
 11. KEEP NAILS TRIMMED
Hang nails rip away at the hair.
 12. KEEP YOUR HAIR TOOLS CLEAN
Brushes and Combs should be cleaned regularly. What good is it to wash your hair and follow-up with a dirty brush or comb? You can soak your hair tools in water and baking soda to clean it properly. Never share your brushes and combs!
 13. PROTECT YOUR HAIR FROM WEAVES
If you are getting a sew-in, use a net to protect your braids and do not get synthetic hair braided into your hair. I have a theory that synthetic hair dries out hair but I haven't proved it yet!  Never pull on your sew-in weave or yank it because it is attached to your real hair and never leave a sew-in in your hair for more than 6-8 weeks at a time. If you wear a wig use a wig cap and never sleep in it. Be careful when using wigs with combs that they don't snag and pull out your hair, and avoid using glue to attach wigs and weaves. If you get braids, moisturize your braids twice daily. When removing braids, it is best to cut the very end and unbraid to avoid mistakenly cutting your hair that has grown out.
 14. PROTECT HAIR WHILE SLEEPING
Use a satin bonnet, silk scarf and just in case those slip off your head try a satin pillow case.
15. PROTECT HAIR FROM WOOL AND COTTON
Scarves are not only stylish but they protect the hair from wool and cotton shirts that tug and pull out the hair! Now you have an excuse to go shopping!
16. PROTECT YOUR HAIR FROM THE WEATHER
For me cold weather takes a toll on my hair. I have to go outside with my hair wrapped in a silk scarf and a hat to keep it protected when facing snow or cold winds. Once I get to my destination I have to stop in the bathroom, and unwrap my hair before I take off my hat wherever I am at. In the summer I tend to wear curly or wash and go hairstyles. If I want my hair straight during the humid seasons I will get a sew-in because there is no way my hair will stay straight without the overuse of my flatiron in humid hot weather.
 17. KNOW HOW TO FIND A GOOD BEAUTICIAN
The best way to find a good beautician is to ask a girl with long hair where she gets her hair done. You want to go to someone with the ability to maintain your hair growth in its current state whether you are natural or permed. Discuss your goals with your stylist and give them 90 days probation to learn your hair before you hire them as your go to stylist.
 18. STAY AWAY FROM BOXED HAIR PRODUCTS
Boxed hair dyes, perms, "treatments", etc…anything that comes boxed for your hair, as a good rule of thumb, stay away from it.
 19. ALLOW YOUR SCALP TO BREATH
There is nothing wrong with weaves, wigs, falls, or braids but the best way to grow your hair is to allow your hair a break in-between those styles and let it breath.
 20. AVOID HAIR TOOLS THAT R.I.P THE HAIR
I NEVER use a rubber band. Some bobby pins pull out my hair as well and I've vowed never to use them again! The best way to determine if your hair bows are ripping out your hair is if you see your hair tangled around it once the bow comes out. Throw it away and never use or purchase again. Also beware of cheap combs and brushes that tug and pull out your hair!
Please leave any other tips that I may be missed below!