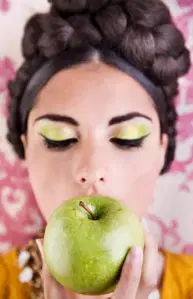 While searching for all natural beauty products, I found a few that have provided me with great results. Although I credit what I eat to the health of my hair, nails, and skin, I still want to properly cleanse and enhance my beauty with chemical and metal free products.  Here are a few that I have tried so far:
  Hair & Nails
 ■Coconut oil, extra virgin olive oil, grapeseed oil, and Jamaican black castor oil are the only oils I use on my hair. I recommend getting organic, unrefined oils and do not buy them from beauty supply stores. The ones at the grocery stores are a better quality. These oils help maintain and grow my hair to great lengths.
■Any shampoo that is sulfate-free should work as a great cleanser for the hair. "Sulfate-free" is becoming increasingly popular, so beware of this trend with faulty companies. Sulfate-free means you should not see a ton of suds when you use it. The suds are what dries out the hair and leaves the hair feeling matted. If you look at the ingredients and see sodium lauryl or laureth sulfates in the product don't buy it. Any sulfate-free shampoo will recommend a good follow-up conditioner to use. I specifically use Design Essentials Naturals line of products, and never plan to use anything else.
■Sally Hansen miracle nail growth kit works perfect for my nails. In fact, it works so good that I never use the entire kit. You can buy this and give it to your friend so they can grow their nails. Take a Vitamin D, and multi-vitamin supplement to maintain your nail growth.
Healthy Skin
 ■Dr. Bronner's Miracle soap (Peppermint) – I use this soap to wash my body and face. This soap cleared up bumps I used to get on my back because of the oils in my hair, and cleared up my face from acne. I used to use Murad which works great for acne, but Dr. Bronner's soap is just as effective, and cheaper and covers more body parts!
■Nubian's Shea Butter lotion with Frankincense & Myrrh. I love African Shea butter, but the smell of it gets to me. This on the other hand has a wonderful scent and feels just as great. I highly recommend this as a daily moisturizer. You can also create your own lotion which is much cheaper with a personalized touch.
■Castor oil is a great moisturizer for the face. I use it at night only because it looks oily at first, but it absorbs into the skin well. Castor oil has been said to have healing agents in it that minimizes smile lines, dark circles under the eyes, and crows feet around the eyes.
■Bare Minerals has a paraben-free matte foundation that I use as my staple beauty product. Parabens are used to preserve cosmetics, and never was a major concern until biopsies from breast tumors started to show traces of these parabens that had been absorbed in the skin. More and more organic and paraben-free companies have emerged allowing consumers to have more options. Afterglow is another makeup company that offers 100% natural beauty products, free of heavy metals and chemicals. I really enjoy their setting powder, shadows, and lipsticks.
These products work for me and my budget. I plan to use these products for the rest of my life because they work that good. What beauty products do you use? Do you think it's a waste of money to buy all natural products?  I recommend reading information on parabens listed on the FDA.gov website.