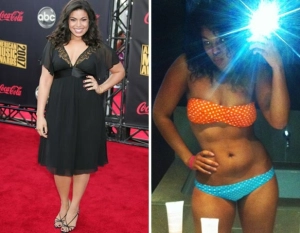 There are many celebrities that motivate, and inspire me to become healthier such as: Jennifer Hudson, Tia Mowry, Jada Pinkett Smith, and of course the infamous Beyoncé Knowles-Carter. However, one lady in-particular whom I feel I can identify with on a "real level" is Jordan Sparks. Her story of her body transformation is so real for me because from the looks of it, we have similar body structure, and we both started out a size 14.  She credits Zumba and smaller portions of food to her body transformation, and says she was realistic about her abilities. She made realistic adjustments to her diet and her lifestyle, and got great results.
One thing she mentioned she did, which is the one thing I've struggled with my whole life, is she stuck with it. That is the one thing that I lack…consistency. Sure I can lose 20lbs in 2-3 months, but will it stay off forever. No! Not unless I stick with doing what I know I need to do, and stay focused and motivated to do the right things.  In both pictures Jordan looks beautiful because her confidence shows in both. True beauty comes in all shapes and sizes, but only in one type of attitude, and that's a positive and confident one.
Kudos Jordan Sparks, for finding what works for you to lose the weight, and sticking with it. I strive to be that dedicated on a consistent basis. Check out her story in People magazine. It is an old article, but it is truly inspirational, straight-forward, and a realistic approach to living a healthy lifestyle.