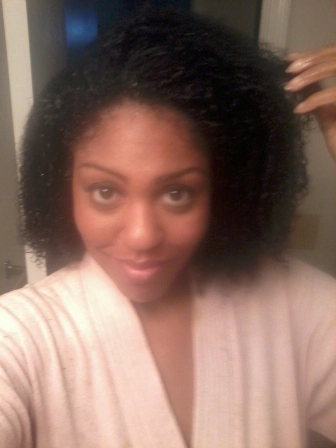 I am on a mission to grow my hair to great lengths. I would say that my goal is to grow my hair waist length but I don't want to limit my blessings! After praying for God to grow my hair, I acted on faith by cutting my hair above my bra strap early October 2012. This was an act of faith because I was nervous about cutting my ends because it would take away from my length. But knowing that I serve a God that delivers on his promises, I went ahead and cut my hair even and healthy. I trusted God would grow my hair back and He did. It is now late November 2012, and my hair is back below bra length. For all of those interested in what I do to grow my hair long, thick, and strong, here is my advice on how you can grow hair to great lengths.
1.       The Power of Prayer and Faith
Pray to God what your heart desires and have faith that the Lord will deliver upon you your crown and glory. Be specific in asking of for long, healthy, strong, resilient, beautiful hair that can grow abundantly. I also asked God to protect my hair from people with malicious intentions. Ask for knowledge and wisdom on what you need to do to take care of your unique hair and He will place people in your life to help you. They will give you advice on how to grow your hair and they will have the best intentions in mind. Give daily praise to God for being a deliverer and you will find that despite the odds, your hair can grow long and fast.
 2.       Nutrition & Supplementation
Your hair grows from the inside out which means anything that you put into your body will affect your hair growth. You will want to make sure that you follow a lifestyle of eating unprocessed, clean foods as much as possible. Stay away from refined sugars, vegetable oils, hydrogenated oils, sodium, and high fructose corn syrup. Be sure to take a daily multi-vitamin like a cheap over the counter pre-natal pill along with a DHA pill. I take a Phytophanere hair, nail, and skin pill daily that I found at Sephora. They are pricey but effective. An alternative to taking Phytophanere is to take a brewer's yeast supplement. I take Super Yeast by Twin Labs in powder form which taste like liquid peanuts, but is highly effective. If you can't stomach the taste of brewer's yeast, I highly recommend the Phytophanere pills. You will have to increase your water intake to about half your body weight to make sure you are hydrating your tresses, as well as increase your protein intake. I recommend taking a protein shake daily to increase your protein intake.
 3.       Maintain = Retain
To maintain your hair, is to retain the hair that has grown. This is the reason most women don't see hair growth. You will want to make this the most simple task of all. I would like to break down to you my hair products and tools that I plan to use all the days of my life because these products and tools work excellent for my hair.
·         Shampoo, Conditioner, Blow-Dry Spray all by Design Essentials Naturals product line
·         Organic unrefined coconut oil, Extra Virgin Olive Oil, and Jamaican black castor oil
·         Black Gold Henna hair dye
·         Protein treatment: (2) whole eggs, avocado, honey, and olive oil; Rinse: Apple Cider Vinegar and Distilled Water. *Distilled water is essential.
·         Hooded steamer, Ceramic FHI flat-iron, Denman brush, wide tooth comb, round boar brush, and Ionic Ceramic Tourmaline 1800 watt blow dryer
My hair is maintained in six-week cycles as follows:
–          Every 2-3 weeks I wash my hair.
–          Daily, I apply coconut oil to my hair and scalp, and towards the 2nd or 3rd week I will apply Jamaican black castor oil to my ends, edges, and scalp.
–          Every 4 – 6 weeks I will give myself a protein treatment
–          Before I wash my hair I make sure it's detangled using my Denman brush and wide tooth comb. After I have washed my hair I steam condition my hair, blow dry it straight with a round boar brush, and flat-iron my edges.
During the summer and spring months I tend to wear sew-in hair extensions. I will were a sew-in for 4-6 weeks before taking it out to monitor the moisture content of my hair. Each time I take out my extensions I do all the above maintenance steps to my hair, and allow my hair to breathe for two weeks in-between the next sew-in application. This is how I maintain and retain my hair growth. Very simple, and nothing too complicated.
4.       Stress Free Lifestyle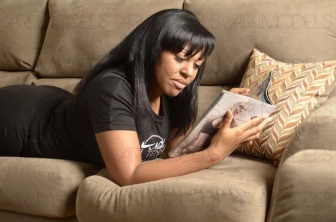 To grow my hair I maintain a lifestyle of physical fitness and avoid getting stressed out about the little things.
Exercise increases blood flow to your scalp which helps your hair to grow. Exercise is also a natural stress reliever. Stress has been known to prevent hair growth and even cause hair loss. In order to reduce stress you will have to change the way you handle people and situations. I would slowly distance myself from people who are negative, always sad, and always having issues. Trust me when I tell you that I stress over nothing in life because I manage my feelings and thoughts in a positive nature.
Please understand that long hair does not mean that it is healthy hair. It's just like people who are not overweight, but are still unhealthy. Understand that as long as you are breathing, your hair will grow. Most people can eat whatever they want and by genetics still grow long hair. If you are one of those people, God bless you! But if you are not, maybe it was fate that you found this post. Hopefully you find it to be helpful and see amazing results should you follow my routine.